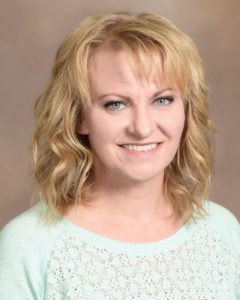 Julie Christiansen began teaching at Grace Lutheran Preschool in September of 2014.
Julie grew up on a farm in Milner, Idaho.  After high school she moved to the Midwest for college.  She taught preschool during this time, but took a break when her children were born.
Julie worked for four seasons at Lutheran church camps in Idaho and Missouri and met her husband, Aaron, at a camp in Missouri where they were both serving as camp counselors.  Julie and Aaron have been married since 2001 and have four children: Hailey, James, Alexander and Timothy.  They moved to the Caldwell area in the summer of 2014 when Aaron came to oversee the opening and manage the new Cracker Barrel Restaurant in Nampa, ID.  During the years their children were enrolled in Lutheran elementary schools she was very involved in a variety of things including: School Board, Board of Education, leadership positions in the Parent Teacher League and led Vacation Bible School.  Julie  enjoys sewing, canning, camping, fishing, gardening, biking, baking, and especially spending time with her family.
"We're so thankful for our amazing church family here at Grace.  It feels like home."